Answer Songs Jukebox
Answer record---Generally a record that uses the same tune from a hit record to make fun of the hit record by changing the lyrics to be humorous, but not always.
---
Click on title to hear the songs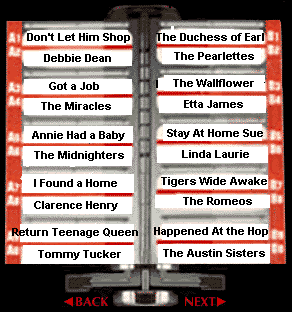 | | |
| --- | --- |
| Answer Song | Song Answered |
| Don't Let Him Shop Around | Shop Around - The Miracles |
| The Duchess of Earl | The Duke of Earl - Gene Chandler |
| Got a Job | Get a Job - The Silhouettes |
| The Wallflower (Roll With Me Henry) | Work With Me Annie - The Midnighters |
| Annie Had a Baby | Work With Me Annie - The Midnighters |
| | |
| --- | --- |
| Stay At Home Sue | Runaround Sue - Dion |
| I Found a Home | Ain't Got No Home - Clarence Henry |
| The Tigers Wide Awake | The Lion Sleeps Tonight - The Tokens |
| The Return of the Teenage Queen | Ballad of a Teenage Queen - Johnny Cash |
| It Happened At the Hop | At the Hop - Danny and the Juniors |
In order to hear these songs you need Real Audio.
Get it by clicking on the icon
---
All Music on this site was purchased by ME for the sole purpose of informing the public of the lifestyles in song of the United States during the Pre and Post War days of this Nation as well as the time period between 1950 and the mid-60s. You are NOT allowed to remove this music from this site without first purchasing a legal copy of the song from an authorized music dealer. Any violation of the law by you in "taking" any of the music on this site without first purchasing it through an authorized dealer leaves you open to a lawsuit from any and all music and/or record companies. You do so at your own risk.

All music should not be taken either if you do not own a legal copy of the song. Any "direct linking" to ANY graphic, text, music or anything else on this site is in violation of Copyright law.
The ONLY thing that CAN be direct linked to are my HTML pages. Those are ANY page that ends with the extension .html